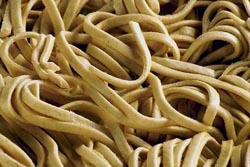 Making Pasta at home is actually much easier than you might imagine.

:Serves 4:

by Deborah Mele



Egg Pasta:

3 Extra Large Eggs

2 Cups All-Purpose Flour


Mound the flour onto a large board, making a hollow in the center. Break the eggs one at a time, mixing the egg into the flour with a fork. Once all the eggs have been incorporated into the flour, begin to knead with your hands until the dough is stiff and elastic. Cover with plastic wrap and let sit 30 minutes before using.


Whole Wheat Pasta:

1 1/2 Cup All-Purpose Flour

1 1/2 Cups Whole Wheat Flour

2 Teaspoons Olive Oil

4 Extra Large Eggs

Follow the above directions, adding both the eggs and the oil into the center hollow.


Pasta Verde:

2 Pounds Fresh Spinach (Stems Removed)

3 Cups All-Purpose Flour

4 Extra Large Eggs

Wash and dry the spinach. Place it into a food processor, and pulse until it is well chopped. Add the flour to the blender and pulse. Lightly beat the eggs in a small bowl, and then add a little at a time to the flour mixture, pulsing briefly between additions. Once the dough has come together into pellet sized pieces, remove and knead by hand until smooth.

To Roll Pasta With A Pasta Machine: Break off a fist sized piece of the dough and flatten into a disc. Flour well, then pass it through the widest openings of your pasta machine. Remove, fold into thirds and repeat. Do this 4 or 5 times, dusting with flour between each time. Now start to decrease the rollers by turning down one notch each time. Put the dough through each setting twice until you have reached your desired thickness. For stuffed pastas, you will generally roll it to the thinnest or second thinnest setting.